Using HubSpot frameworks and tools, alphawhale was able to increase the organic search rank of PETstock NexGard SPECTRA and increase the brand's total sales from the previous year by 283.7%.
alphawhale continuously increase customer conversion, loyalty and delight for PETstock through strategy and marketing across all digital touchpoints.
The Challenge
PETstock recognised the consumer-based challenges they face in getting customers to purchase NexGard SPECTRA:
NexGard has many great selling points, being a new and innovative product known for its ease of use, backed by PETstock's brand values and benefits.
Shoppers may not always make rational or informed decisions when purchasing this category.
There is a lot of competition that solves similar problems at various price-points. The differences between these products are not always understood appropriately by consumers.

This a grudge purchase, meaning, the purchaser would rather spend their money on something else.



T

he Solution
We utilised the HubSpot flywheel model to put the customer at the centre, building our objectives and strategy for this campaign. We used personality to address the audience, such as humous to break the feeling of the grudge purchase, using simple yet action-orientated messaging.
alphawhale's project objective was to maintain brand awareness and top-of-mind for NexGard SPECTRA as a category leader and PETstock as a leading retailer. Enhancing their tone of voice with digital activity from retail that has a DTC path, we had the overall opportunity to grow the average run rate of NexGard SPECTRA at PETstock.
Our campaign strategy addressed the following: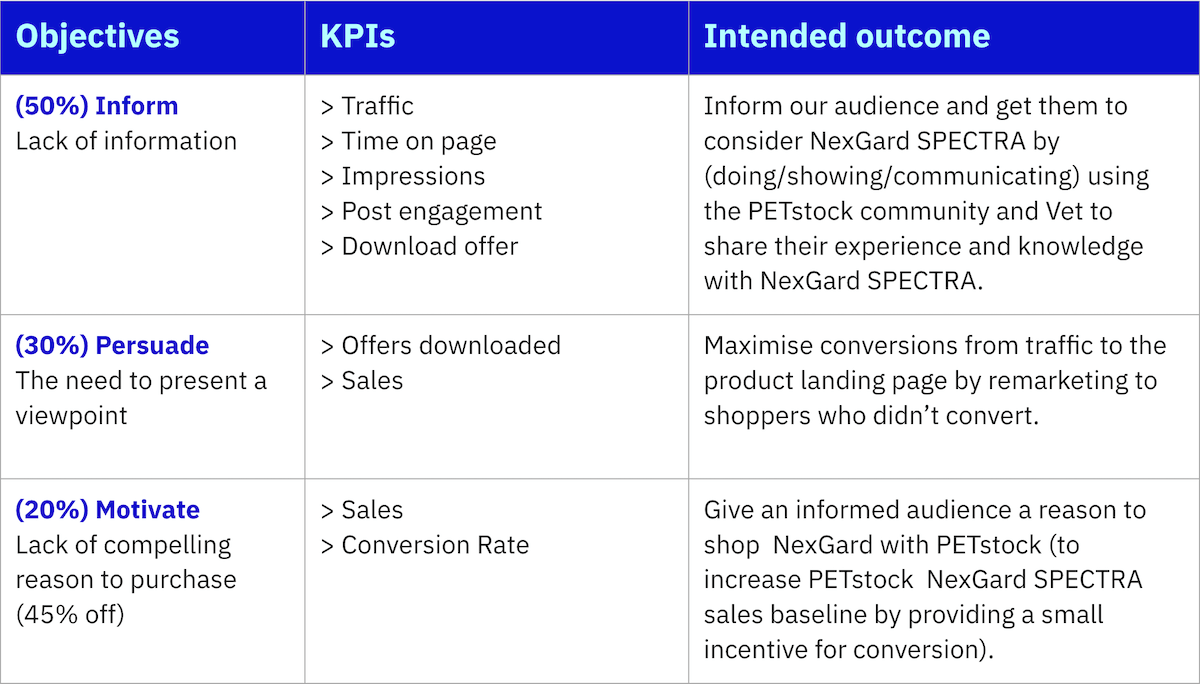 The Results
There was evidence from previous alphawhale campaigns that using the HubSpot flywheel could have a positive on search rankings. The increase in organic traffic for NexGard SPECTRA to the PETstock site as a result of the campaign was beyond expectation:
PETstock's organic search ranking improved from second page Google to first, from position 8.5 to 4.3. This led to a 20% increase in traffic to PETstock for NexGard SPECTRA keywords.
The audience was 46% more likely to click PETstock's listing, with an average 3-minute time-on-page. This is an indication to Google Search Algorithm that they should rank PETstock higher for this term.
Other key statistics:
3.13M impressions reached (2.5M forecast)
7.7K+ pageviews to the landing page (4.9K forecast)
Organic positioning improved by a margin of 4
621% lift in online NexGard SPECTRA units sold vs last year
271% lift in in-store NexGard SPECTRA units sold vs last year
10,676 more members shopped
6,357 new members to the NexGard/NexGard SPECTRA Brand
The Impact
Other highlight reviews from the client include:
"One of the best agencies we've worked with, really happy with the creatives and the results".

"We never get such in-depth analysis of our campaigns from other agencies. This is great, can you send it ASAP so we can share in our meetings".
As the copywriter for this campaign, it was rewarding to see my efforts in collaboration with the creative and performance team deliver such impressive results.

Team alphawhale continue to nourish this relationship with NexGard Spectra and PETstock, delivering another campaign in March 2021 while employing the magic of HubSpot to continue to create impactful and clever campaigns for our clients.