The challenge:
With Australians spending over $12 billion a year on their pets, it comes as no surprise that the online pet supplies space is getting more crowded and competitive each year.
As with many established sectors, much of the market share is controlled by a select few - established omnichannel brands offering mostly similar customer experiences.
Cue PetPost: a new online pet food and supplies retailer looking to break into the market and shake things up with the big guys.
PetPost needed to attract a new audience.
As a new brand in a heavily saturated market, PetPost needed to make some noise and gain brand awareness as quickly as possible.
Where other brands in the space were operating heavily on outbound tactics like discounts, in-store promotions and flash sales, PetPost wanted to counteract with their USP: always-low pricing that would remove the need for constant bargain-hunting.
PetPost needed to convert customers.
Looking to further differentiate the brand by focusing on the simplicity and joy of pet ownership, PetPost needed to provide an uncomplicated shopping experience that would encourage quick, seamless conversions and build up a list of loyal customers.
PetPost needed to create delight.
Apart from offering convenience and outstanding service, PetPost needed to leverage new customer data to develop relevant, personalised journeys that would create greater moments of delight among customers.
Prior to launch, PetPost needed an integrated marketing strategy - quickly.
All the pieces needed to fall into place seamlessly to prep for launch day and to deliver a connected digital experience for all new customers.
At this point, PetPost needed to collaborate with an eCommerce agency experienced in branding, marketing automation and digital growth.
That's where alphawhale came in.
The solution:
Marketing enablement was needed for sustainable growth.
After a deep dive into PetPost's business model, we recommended HubSpot's marketing hub as the ideal solution for accelerating the brand's growth.
The Hubspot platform could scale in line with the brand and easily integrate with their eCommerce platform. As a MarTech ecosystem, it would instantly reduce the friction of switching between strategy, marketing, and customer engagement functions.
The CRM would give PetPost greater clarity into their customer base and journey stages, so that they could create more relevant, personalised marketing messages at each stage of the customer experience.
We were tasked with fleshing out the awareness, conversion and engagement stages to ensure full marketing enablement for launch and beyond.
Attract: on-brand paid (PPC) advertisements to drive traffic to the website.
As brand awareness became the number one goal for launch, our team quickly got to work, developing creative display ads and text search ad campaigns to drive awareness.
We helped elevate the brand's visual strength by designing key marketing mix collateral including flyers, website banners, social media content and display ads.
Some of the Google Display Ads alphawhale designed to drive awareness and conversion for PetPost.
Attract: extra assets were required to build brand awareness.

Our branded designs were implemented across PetPost's website, social media accounts and email templates to create a cohesive, on-brand impression for PetPost visitors.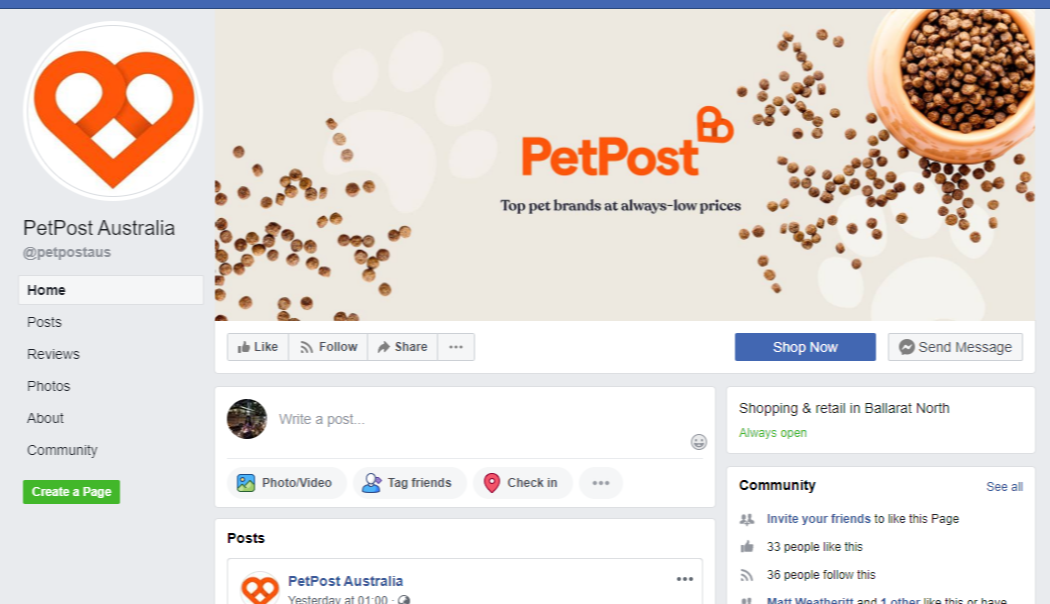 Convert: marketing automation was needed to convert and retain new customers.
Next, we equipped PetPost's marketing hub with conversion assets such as landing page and email templates, custom CTAs, and forms.
By tracking the performance of these assets in HubSpot, PetPost could better understand their customers and build out more compelling CTAs to maximise conversions.
Using Hubspot workflows, we created a trackable welcome email campaign for new customers, an abandoned cart email series and a customer onboarding campaign.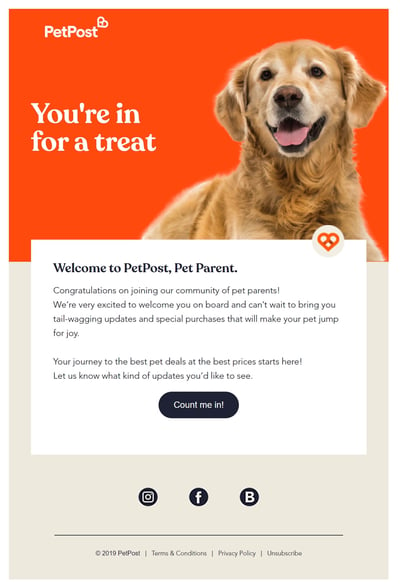 A look at one of the automated Welcome series we designed, wrote and implemented for new PetPost customers.
Convert: outdoor advertising with a twist
For added brand impact, we ran an outdoor advertising campaign consisting of branded street posters.
These were designed to amplify PetPost's primary brand colour and make good use of joyful, light-hearted brand tones (as per their Tone Of Voice guideline).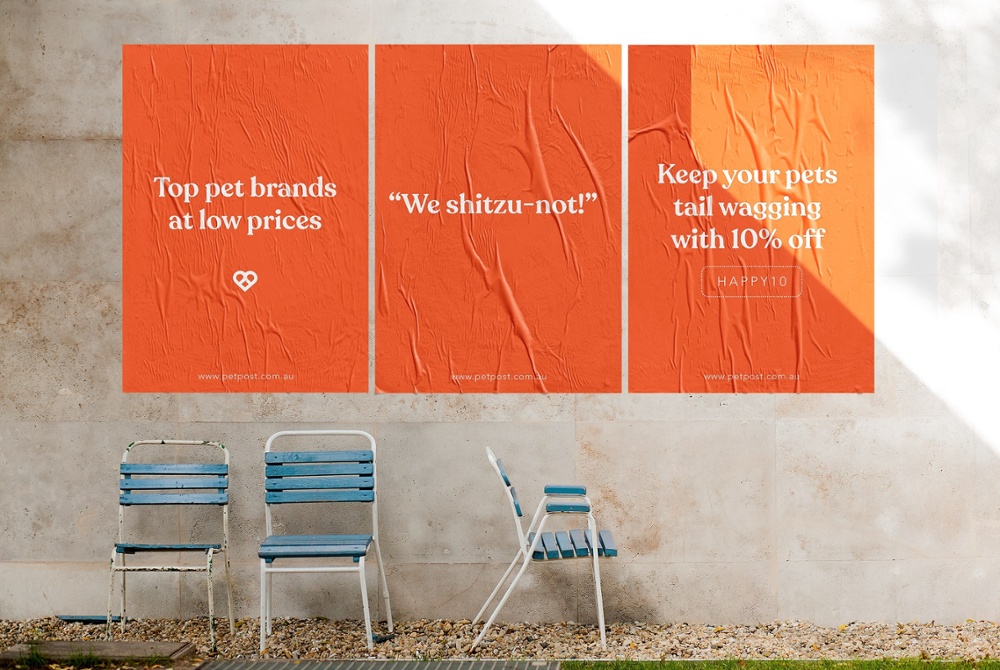 Unlike traditional outdoor advertising, these campaigns could be tracked in HubSpot by measuring the usage of a discount code that was printed on the flyers. This gave PetPost greater clarity around their lead sources and a more accurate way to measure their ROI from outdoor advertising.
Delight: encouraging word-of-mouth referrals through email
Knowing that word-of-mouth was going to be a winning acquisition strategy for PetPost, we designed a NPS survey email for customers to gather feedback quickly and efficiently.
We also developed a referral campaign encouraging customers to share their brand experience with their own networks and online.
The results:
Attract: 250% increase in ROAS
Early on, it became clear that paid search ads would form an key part of PetPost's site traffic and new user acquisition.
Based on the PPC campaigns we created, our team was able to deliver positive ROI within the second month, building up to a 250% increase in ROAS (since launch) as well as a 28% decrease in costs.
Convert: Achieved 2.5x the average eCommerce email open rate and 10x the average click-through rate (CTR) through automations
Since PetPost did not have its own precedent benchmarks, we compared email performance against Australian eCommerce industry averages post-launch.
The automated email campaigns we created for PetPost performed at an average open rate of 39%, nearly 2.5 times higher than the industry average of 16.10%.
Email click-through rates averaged at 18%, which was 10 times higher than the industry average of 1.70%.
Delight: Word of mouth campaign: 4.9 star rating average
The referral campaign which encouraged happy PetPost customers to share their experience with their networks led to the rapid accumulation of positive Facebook and Google reviews within a few short months.
The impact:
As a relationship-oriented agency, our collaboration style is transparent, data-driven and growth driven, which has won us a lot of support from our partners.
With PetPost's launch, we helped the brand achieve major milestones toward their ideal integrated marketing strategy: to have consolidated customer touchpoints into a connected customer experience built on low friction, high velocity interactions that simplify and streamline marketing operations.
This approach opens up time more avenues to lower costs, improving efficiency and the ability to scale as the business grows.