Team alphawhale recently announced we're on a quest to become B Corp certified, with our mission of Cleverness with Impact. We've been taking inspiration from some local and international brands, whose campaigns made a meaningful impact due to their sense of purpose.
In a world overflowing with options, purpose-driven campaigns and brands are discovering new opportunities to deliver value to their people, environment, and the community in which they operate. Purpose is not just another buzzword; it's paramount for companies to do the right thing, aiming to not only connect on a deeper level through authenticity, empathy and focusing on all humans and factors.
Check out some of the crew's favourite campaigns demonstrating these values:
No Small Plan is a bold campaign by Thankyou, which launched in September 2020. Acknowledging that "business as usual is broken", co-founder Daniel Flynn calls out big brands such as P&G and Unilever to join forces with the social enterprise. They intend to reroute millions of consumer dollars over the next decade for the end of extreme poverty. Believing in collective power, they've also taken to social media to encourage support from their audience to influence these companies to accept their invitation. We're in, are you?
Recognised for their minimalist aesthetic, unique approach to marketing, and HUGE social impact, Thankyou continues to show the way, selling world-class, sustainable products '100% For' their purpose. With their mission of amplifying impactful change-makers, to date, their brand has raised $17 million to give back to their partners in a revolutionary way.
Patagonia launched the Don't Buy This Jacket campaign in 2011 - an oldie but a good, which has ultimately shaped their distinct and brilliant branding, as well as purpose strategy over the next decade. The ad went viral after running in The New York Times, even if it did essentially go against the company's commercial interests. It addressed the central message to their audience to think twice before making purchases they don't need while encouraging the notion of reducing, repairing and reusing; magnified today with their Worn Wear initiative.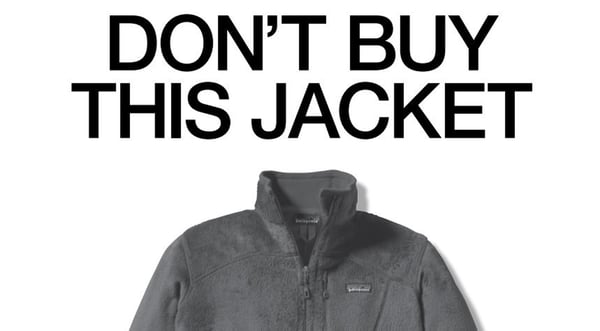 Patagonia is a pioneer within the B Corp space, embodying what it means to be purpose-driven. Their mission is to build the best product, cause no unnecessary harm, and inspire and implement solutions addressing issues across activism and their footprint.
Ice Cream is cool when there's a purpose behind it (cool… get it). Unfudge our Future is a vegan ice-cream flavour developed by Ben & Jerry's, in partnership with 350 Australia. Part of the proceeds of each pint goes to this movement while encouraging their audience to join them in calling on Australian leaders to rebuild a clean, resilient and fair future.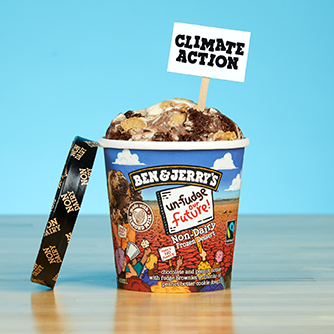 Ben & Jerry's is another distinguished brand who has joined the B Corp movement, improving their overall impact score overtime. With a mission of making the products that they sell to the highest standard, they also create a positive social change by advancing sustainable and replicable economic justice models, among other purposeful impacts.
The Starbucks '#whatsyourname' campaign celebrates the significance of the brands signature act of taking a customer's name and writing it out a cup for some transgender and gender-diverse people, as they start using their new name in public. Leveraging their scale, they partnered with Mermaids, raising £100,000 to help expand the vital support services needed for these young people and their families. 'Moving Portraits' is another aspect of the campaign, featuring real-life stories and recognising how people choose their new names.
Starbucks mission is to "inspire and nurture the human spirit - one person, one cup and one neighbourhood at a time". Having always been a company led by values, they aim to continue to work towards creating a warm and inclusive Third Place, creating an equitable, diverse and inclusive culture within the workplace, community and in-store.
Rideshare platform Uber urged customers to "stay home for those who couldn't" midst the COVID-19 pandemic, showcasing emotive footage of individuals and families social-distancing. Uber's wider 'Move What Matters' commitment was to provide 10 million free rides and food deliveries to healthcare workers, seniors and people in need.
In addition to this purposeful campaign, Uber has the vision to be a zero-emissions platform by 2040. They're doing their part now by offering more ways to ride green, help drivers go electric, partnering to fight climate change and making transparency a priority.
Helping fight the loneliness epidemic, one block of Cadbury Dairy Milk at a time. For the 'Donate Your Words' campaign, Cadbury released limited-edition bars of Dairy Milk with the words removed from the logo. The aim was to encourage everyone to have a conversation with an older person, donating part of the sale of each bar to Age UK. This simple act of kindness to change the lives of older people sings true to Cadbury's historic tagline - 'there's a glass and a half in everyone'.
Cadbury's stance for being 'a force for good in the world' is built from close to two centuries of putting people and communities at the heart of the way they make and sell their chocolate. We acknowledge that not all brands are ethically perfect but progress builds momentum.
So engaging, so unique, so impactful... you have now discovered some of our best-loved campaigns with an overall purpose. Did we miss any worth mentioning? You can scroll down to find our social accounts to let us know your thoughts!