The eCommerce world can be full of cringe-worthy industry jargon and buzzwords.
Metrics, on the other hand, live in a parallel world to jargon.
Much like jargon, metrics can sound impressive (especially the ones that people only ever speak about in abbreviated form - you know, CTA, CRO, AOV...). And yet they can often be misunderstood or applied, resulting in higher costs and missed opportunities for revenue.
Metrics are the only way for you to understand what's working and what isn't. If you don't follow them closely, you won't know where or how to make improvements.
You need to be paying attention to at least the following 7 metrics for your business:
1. Conversion rates.
We gave this one a blanket title, but there are TONS of meaningful ways to dissect your conversions. Think about your:
Conversion rate by traffic source

Conversion rate by email

Conversion rate by device type

Conversion rate by product

Conversion rate by your user segments (such as new vs. returning customers)
All of these will tell you a different story of where to invest your time and budget. For example, if more people are converting through Google, then you'll be running Google Ads to drive extra traffic to your site.
2. Email opt-in conversion rates.
Your email opt-in rate is the number of people who signed up to your mailing list, divided by the total number of site visitors. A healthy opt-in rate on a website can sit anywhere from 1% - 5%, depending on your industry.
Email marketing is arguably the most powerful tool an eCommerce business can have. It's been found to deliver a 4,400% ROI. So, you have no excuse to not be tracking this metric and optimising your opt-in experience!
3. Cost per acquisition (CPA)
Cost per acquisition or CPA is the average expense it takes to gain one customer (through your promotions, emails etc.) To be profitable, your customer acquisition cost needs to be less than your customer lifetime value and ideally, your average order value.
What's super important: your CPA probably varies wildly across different channels, so simply dividing your total marketing expenses by total customers isn't going to paint you a detailed picture.
Find the specific CPA for each marketing channel you use, and it'll tell you where to direct more or less of your budget moving forward.
4. Average order value (AOV)
Knowing your average order value is a key step to growing your business, because increasing your AOV carries minimal cost and high reward! Think about methods like cross-selling, upselling or offer free shipping for purchases over a certain amount.
Your average order value (within the time period you specify) can be calculated by dividing your total revenue by total number of orders:
Revenue
____________ = Average order value
No. of orders
5. % of return customers
Returning customers are much more profitable than first time buyers as you don't have to pay acquisition costs the next time they come back.
But more to that, your % of returning customers also tell a tale about the overall health of your business - your site, customer service, brand credibility and price point.
6. Customer lifetime value (CLV)
This is the total amount of money each customer is expected to spend on your products and services. It's vital to know your CLV and find ways to extend it, because who doesn't want more customer loyalty and retention? In fact, 61% of businesses have reported that over half their revenue comes from repeat customers.
Your CLV can be a little tricky to calculate, especially if your customers purchase sporadically. But trust us - it's worth the effort!
There are 3 formulas you can use to get your CLV with the most simple way being:
52(average customer order a week) x (average customer lifespan)
Take a look at some of the other ways to calculate your customer lifetime value here.
7. Net promoter score
Your net promoter score is your moment of truth.
It's what customers really think of your business, and how likely they'll be recommend it to others (we're sure you need no introduction to the effectiveness of referrals!)
Your NPS score is calculated through a survey, asking respondents 2 main questions:
How likely are you on a scale of 1 to 10, to recommend our service?

Can you tell us why you responded with that number?
Group your responses into 3 categories: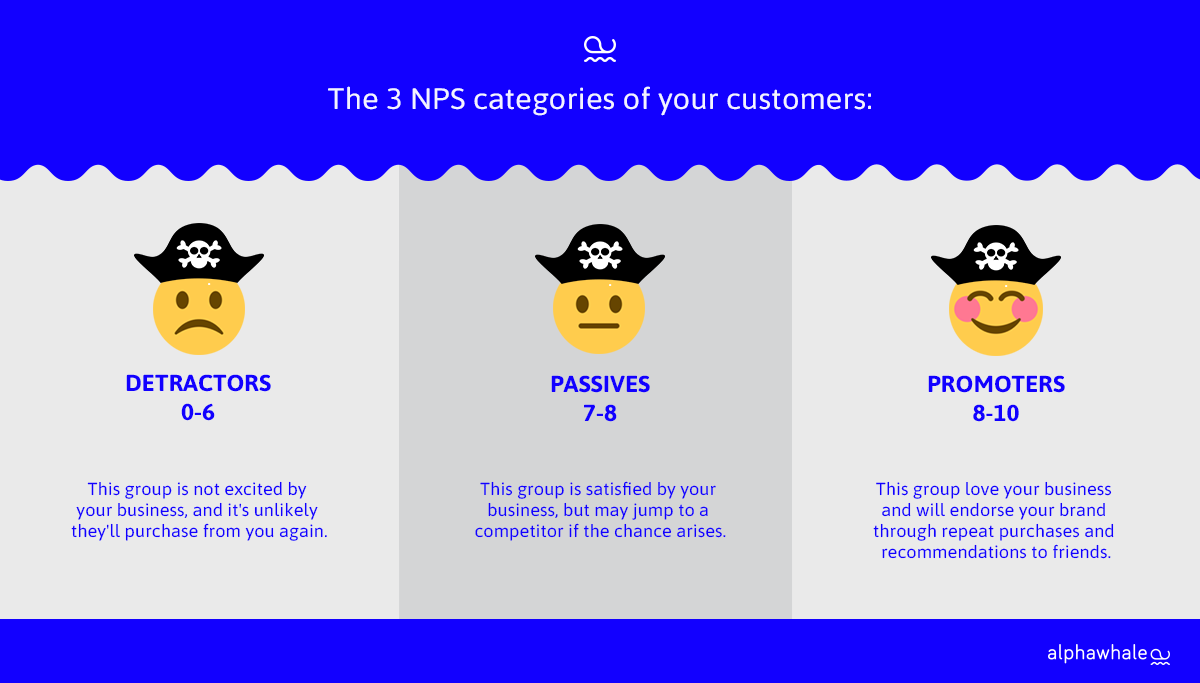 Now, sometimes the truth hurts... but think of all the possibilities you could have to not only learn from your detractors and passives, and make improvements to win them back. Especially with emails.
Not to mention, knowing who your promoters are (and rewarding them) will only increase their loyalty!
To get further fuel your eCommerce emailing strategy, check out our guide to abandoned carts today. It's totally free and full of strategies we've used with clients to:
Optimise their abandoned cart campaigns
Create proven email design concepts - that convert!
Master metrics like CTR, CTA, CPA... and much more.