As life begins to go back to 'COVID Normal', we'll see local economies reopening again soon. Fortunately, technology has aided many businesses during this unprecedented time, with Google at the forefront. Although the company is occasionally in hot water due to ever-changing updates, they have rolled out various initiatives that could benefit many companies striving to make a comeback.
This information came with the announcement that Google will increase its annual Ad Grants by $200 million, to a total of $1 billion for 2020. The aim of this is to better support nonprofits around the world tackling pressing issues, like COVID-19 response and recovery; especially those in developing countries.
Google just keeps giving. They are currently running an insightful weekly video series - The Update on Think - where their product managers explore industry trends and best practises. They kicked it off with the topic 'Helping Businesses and Organisations Recover', which is watch-worthy for any business in Victoria right now.
Some of the new features they've been exploring over the last few months could be beneficial to your biz! Let's jump right in...
Local store details in the Shopping tab
There are countless benefits for retailers to have an active Google My Business Account, and Google has implemented new tools to amplify this feature. Information such as product availability, locations, and options, including curbside delivery is now available on the Google Search Shopping tab.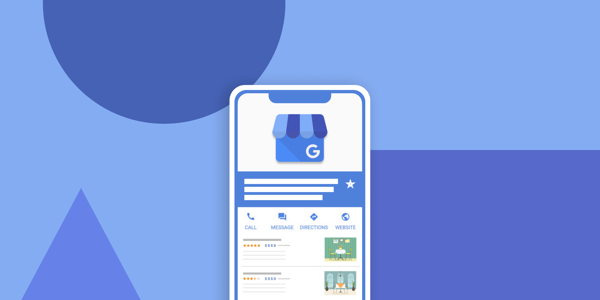 [source: https://www.digitalmaas.com/blog/google-my-business/]
Earlier in the year, Google introduced free product listings into its Shopping results to pull ahead of competitors, such as Amazon. For retailers, this means more free exposure to their products, and products being more easily discoverable for shoppers.
In-ad bookings from Local Services Ads
Not only can we now make phone calls or send message leads directly from mobile Local Service ads, but users can also book service appointments. As a service provider, you must be backed by the Google Guarantee consumer protection program to use the feature.
Setting up bookings through a provider allows you to seamlessly harmonise the appointment process with your customer's Google Account, alongside integrations such as Calendar. It also enables businesses to keep tabs of their booking history through Reserve with Google.
Commissions (per stay) for Hotel Ads
Google Hotel Price Ads (HPA), or Pay Per Stay, is a pricing model which allows hotels to gain commission on check-outs. According to Google Ads Lead - Jerry Dischler, the company wanted "to move to a model where we could have incentive alignment during this really difficult time with our hotel chains and our hotels."
The feature is reported to only be temporary, with Google continually evaluating its performance. It's still going strong four months later and likely could stay around, as travel advertisers recognised it for its functionality.
Tools for small and medium-sized businesses
Google introduced the Rising Retail Trends tool for retailers to see fast-growing product searches, illustrating consumer behaviour during the pandemic. The following image reflects a glimpse of the trending data over the past year.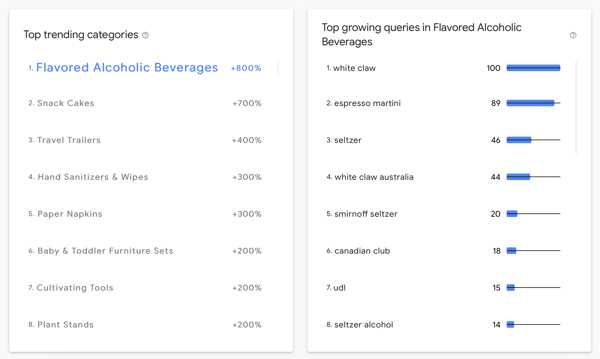 The company also brought in a new tool for businesses to benchmark their online store against others in the industry and get tips on improving their online presence, with Grow My Store. Businesses can also get information about how to improve their Google My Business profiles with a new Local Opportunity Finder tool.
Ready to level up for the rest of 2020 or preparing for the next year ahead? alphawhale can help magnify your businesses digital presence through Google features and beyond! Start your journey to unlocking your brand's full potential by getting in touch with our team.