As the title suggests, current times are as tough as they are extraordinary. Businesses are closing, events are being cancelled and those lucky enough to keep their jobs are now mostly confined to working from home.
If you're in the retail/eCommerce world, this is not a drill. The impact of COVID-19 on brands has been all too real and often permanent.
It's highly likely you're already experiencing issues with changing customer needs, supply chain and demand, bricks-and-mortar footfall, customer service and brand messaging.
In the midst of any crisis like COVID-19 or even the depressions and recessions of past, it would seem like all signs are pointing for your business to downsize, and the first expense on the chopping block might be your advertising spend.
Well hold up, not so fast….
A smooth sea never made a skilled sailor.
Let's be frank: your business might not make it out of this in the same shape, but we'd be failing our clients as an agency if we didn't urge them (and yourself) to adapt, evolve and continue to get their voice out while possible. That includes advertising. In the face of adversity, we actually see some golden opportunities for brands to go where they haven't gone before.
Advertising during economic downturn: what does the research say?
When times are good, you should advertise. When times are bad you MUST advertise.
There is research going back nearly 100 years to suggest the advantages of maintaining (even increasing) your ad spend during economic downturn.
During the 1920's depression, Kellogg's doubled their advertising spend and became the category leader for cereal.
One of the first major victories on record was for breakfast brand Kellogg's. During the Great Depression of the 1920's, Kellogg's main competitor Post (who was the market leader at the time) cut back heavily on advertising costs while Kellogg's doubled down on spend.
The result of this unwitting experiment? Kellogg's grew profits by 30%, going on to become the new category leader for ready-to-eat cereal. They remain an industry giant to this day, no doubt largely because of their decision to stay top-of-mind during a time when everyone else was cutting costs and silencing their own voices in the market.
Other cases also speak to the success of businesses when they continued to advertise during the 2009 recession. These include Amazon, Netflix and Lego: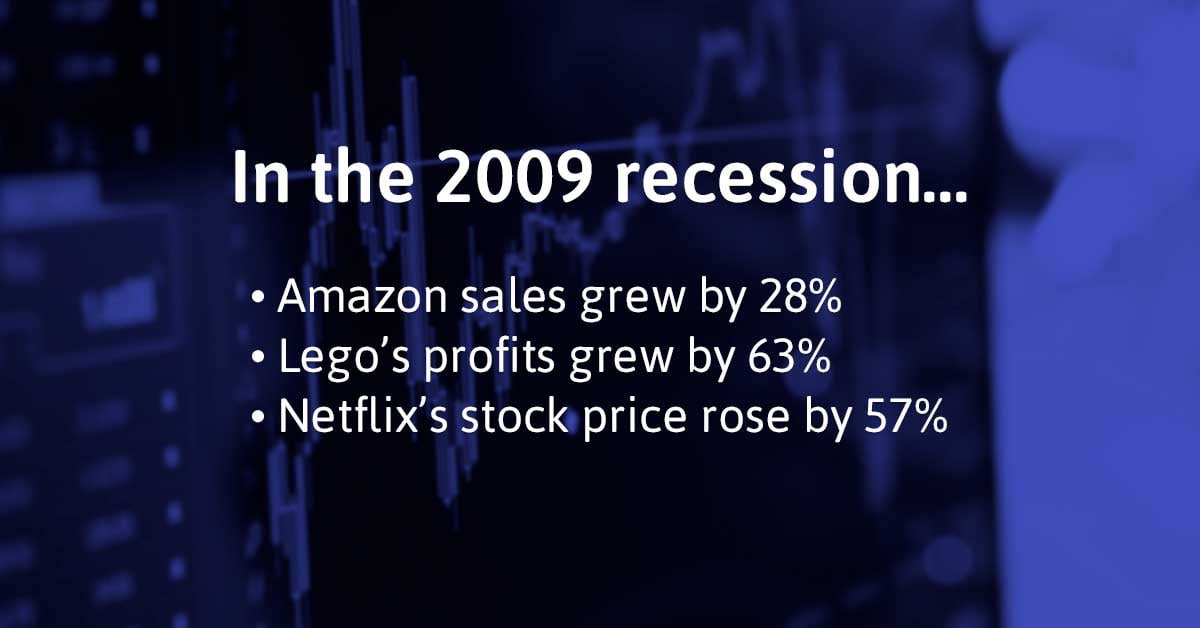 Can advertising in a recession benefit YOUR business specifically?
Advertising (even in good times) is rarely executed without flaw, and every market is different so your mileage may vary. None of us are guaranteed strong results, especially not for those still taking a plug & play approach to their ads.
But the benefits, by principle, of advertising in weak times do make a lot of sense:
When your competitors are cutting back on spend, there's less noise to cut through and your share of voice will naturally elevate.

Advertising rates such as in CPC have lowered, with Facebook already reporting that it's revenue has taken a hit. However, more people are now online as they self-isolate - potentially increasing your audience size and engagement rates.

You need to be showing your customers that your brand has composure and stability during a tough time. Advertising lets you communicate that message en masse.

For eCommerce businesses with fluctuating inventory, digital platforms like Google Shopping Campaigns is the perfect place to advertise - the ads switch off once stock is depleted so you're never promoting an item that's sold out.

If you can successfully cut through the noise with the right messaging, your increased share of voice will most likely translate to a greater share of the market and higher profit, as indicated through the examples above.
In short, our answer is: if you have the budget and means to continue advertising, go for it. But if you want it to generate positive results, you need to empathise with what your customers are going through, and you need to be striking the right chord with them.
What changes will you need to make for your advertising to succeed?
Be clear and effective in how you communicate.
Brand storytelling and whimsical branded experiences still have a place in advertising, just not right now! Your customers are feeling a mixture of fear and confusion - what they need from you is simple, direct messaging that points them exactly toward where they need to be.
Be cautious about discount offers and sales messaging:
Many brands are currently looking to switch their ad messages and offer short-term discounts to their now budget-conscious customers. If you're about to follow suit, we suggest treading with caution. Discounting tends to harm your brand equity which is the last thing you need at times like this.
A better approach would be to focus on your loyalty and retention; continue to provide your customers an amazing online experience. Maintain a seamless transaction process, be flexible with customer options and offer free shipping if you haven't already. These are the meaningful touches that will keep them coming back even after the discounts finish.
Be hyper vigilant about your customer acquisition cost:
During a downturn, customer acquisition costs usually come down as advertising rates lower. One thing to be mindful of though, is the longevity of your acquisition model in times like this. If you're getting new customers and signups through discounting, you're not necessarily building a relationship that fosters loyalty and retention. This leaves you with a higher acquisition cost in the long run as your customer lifetime value (CLV) decreases.
Similarly, if you're seeing a huge uplift in online sales and first-time purchasers right now, there's much work to be done in retaining those customers. Watch your acquisition metrics closely and avoid these common mistakes many marketers make when attracting new customers.
Keep on top of your inventory.
Supply chain management is now becoming a serious issue for many businesses - more on how that can be handled here. From an advertising perspective, the last thing you want is to communicate ample supply when there is none or leave ads running for items that have sold out. Try to stay transparent about your stock levels with customers so that you can shape expectations.
Promote your top categories/essentials and how easily customers can obtain them.
Make the purchasing decision as quick and seamless as possible. Now is the time to introduce options like contactless home delivery, free shipping or Click & Collect if you haven't already. Offer purchase guarantees or adapt your refund/exchange policies. Give everyone the chance to access what they need by placing purchase limitations on your most popular products.
Demonstrate your commitment to safety.
Show your customers how they can safely accept deliveries or make returns. Authority To Leave (ATL) is a service offered by Australia Post that lets deliveries be dropped off at a safe location without any contact. This protects the safety of both customers and drivers.
Finally, remember that customer service and expectations are more critical to brand loyalty now (or times like this) than ever. No amount of advertising can counteract the effects of poor customer service.
If you're being inundated with queries about orders, shipping times and any other concerns, focus on having your customer team respond as quickly as possible. Use clear, concise messaging in all of your communications, and extend support hours or channels if you see the need to.
If you're feeling uncertain, get in touch.
Q: "What do you think about the recession?"

A: "I thought about it and decided not to participate."

- Sam Walton, founder of Wal-Mart
The advice we offered might not be relevant for all business models given the extent of shutdowns and changing government measures.
As the eCommerce specialists, we're keeping a close eye on all the updates and how they're affecting different brands. If you're ever looking for extra guidance on future-proofing your business during this time, get in touch with the alphawhale team.
Remember to stay safe and look after each other, everybody!
Keeping virtual doors open with fast and effective online solution plans. Find out how we're helping businesses to weather the storm by clicking below: