PPC is one of the strongest and most effective marketing channels for an eCommerce business. But when your PPC strategy isn't set up correctly, you could end up paying a lot of money for low-quality or no leads.
Being a Google Partner and with our years of experience handling Google Ads for eCommerce clients, here's a list of the mistakes that you cannot afford to make in your PPC account.
Mistake #1: Not knowing your competitors
"The goal is to turn data into information, and information into insight."
Data is key to your PPC strategy, and this includes data on your competitors. You need to know everything about your competitor's services like strengths, weaknesses and USPs. You should also look into the keywords they are bidding on and what landing pages they are taking the customers to.
The best way to discover or learn about your competitors is to do a Google search. Check out the top search engine results (SERP) that will give you ideas for your own ad copy. Don't forget to take a look at "Searches related to xxx " at the bottom of the page, this is one of the best ways to discover other related keywords that your target audience is looking for.
You can also use tools like SEMrush for keyword & competitor research. By plugging in your competitor's domain, you can find incredibly valuable information about their PPC strategy and performance including position/position changes, other competitors, ad copies, ad history, landing pages and subdomains.
Here's an example of what you can find on SEMrush about a competitor: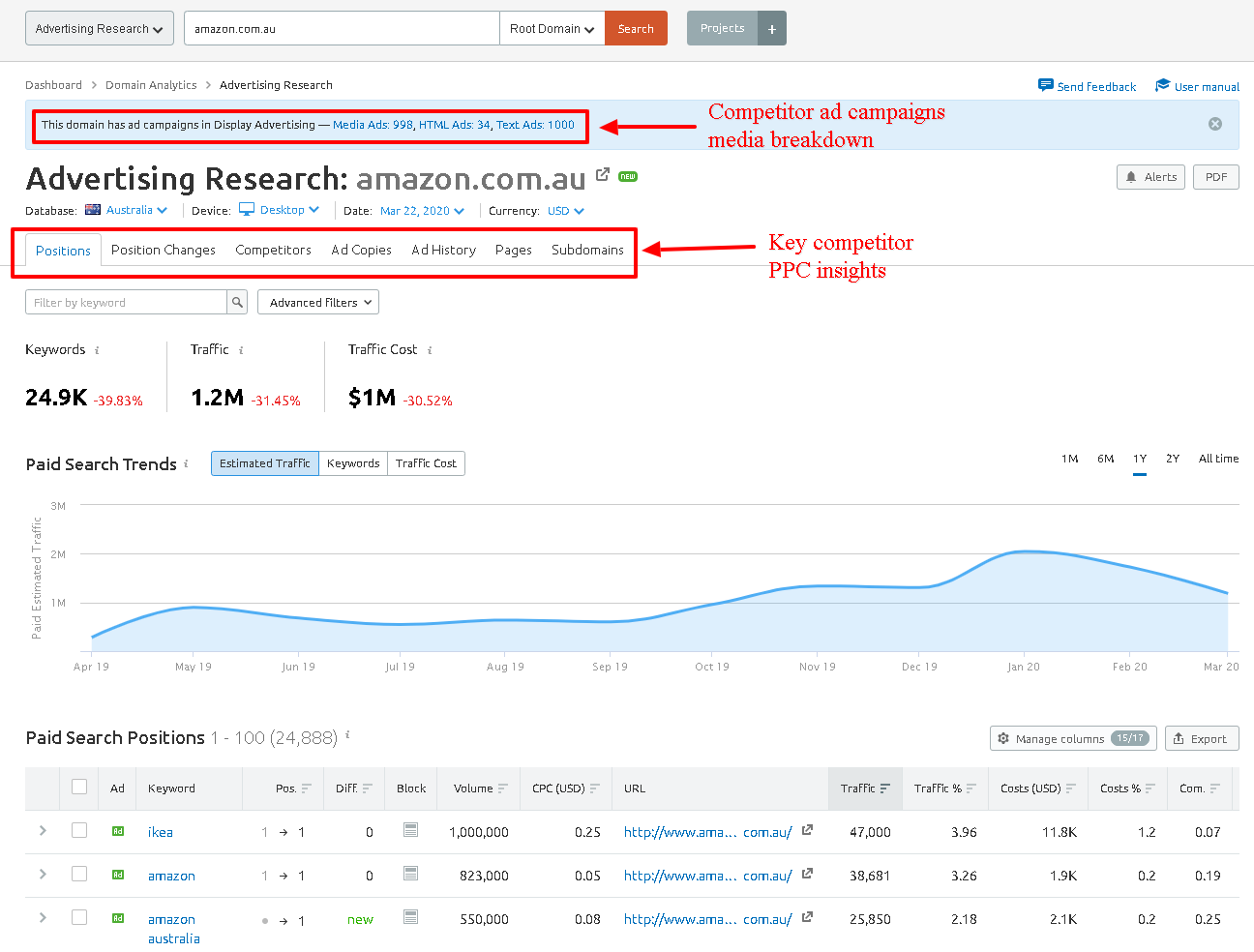 Mistake #2: Not defining or tracking your goals
If you want to properly measure your brand's online success, you need to firstly define your goals for the campaigns. Goals vary from business to business. For example, a local florist might have phone calls as their goal, a plumber may have a form submission as a goal and a fashion retailer might have a purchase/check-out as their goal.
Set up tracking for your goals in Google Analytics and constantly keep checking how these goals are performing versus the spend on the campaign:
Mistake #3: Failing to use the negative keyword list
Negative keywords are one of the first things to set up in your PPC optimisation routine. Putting up a negative keyword list will prevent your business ads showing up in unrelated queries. Having a negative keyword list will help to improve your click-through rate & bounce rate too.
For example, if you own a men's denim fashion label, then you need to add children's and women's denim queries as negatives to your list. This helps ensure you only drive relevant traffic to your website.
Mistake #4: Not using the holy grail (Search Term Report)
Search Term Report (STR) is one of the best features provided by Google Ads. This report gives you the information about all the terms that were searched by users to find a business like yours.
STR helps you understand the nature of traffic that your website is receiving. Depending on the search terms, if they are related to your business then you can add them as keywords, if not add them to a negative keyword list to avoid irrelevant traffic to the site.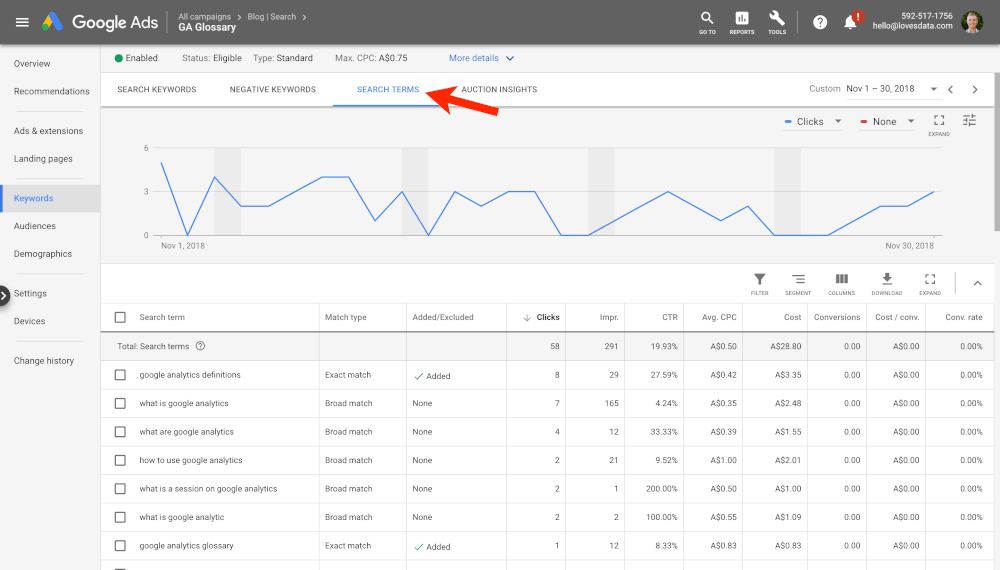 Mistake #5: Incorrect targeting
Failing to target the right audience and platforms to show your ads means you are not reaching out to the right people who will click and convert. Your Ad campaigns, especially the display ones, need to have the right targeting to avoid showing your ads on sensitive content platforms as well.
You can target people based on their age, gender, marital status, income, interest and habits etc.
Mistake #6: Not being compelling with your ad copy
The end person you are trying to reach is human, so don't be too boring with the ad copy. You need to make a meaningful impact when a customer reads your ad line, even if character limits are working against you. Search to see what your competitors are running and brainstorm how you can make your version even better.
If you don't have compelling ad copy, people won't even bother to click on your Ad. So add in some flavor to get that click!
Mistake #7: Letting Google bid for your keywords
If you are a beginner in managing Google Ads, an automatic bidding strategy can be good for a while. But with an automatic bidding strategy comes the default setting and bids which could ruin your entire account performance.
Google gets paid every time someone clicks in your ads, even when that click doesn't transform to a lead or conversion. With automated bidding strategies, Google will try to get you as many clicks as possible to the site but these may never lead to conversions.
Hence, you need to manually bid your keywords to in order to receive the right traffic and leads.
Stressing over your Google Ads account?
Avoid costly mistakes and get in touch with the alphawhale team, and we'll take the guesswork out of your next campaign.