There is always a holiday around the corner when you're a marketer.
Excluding end of year sales, there are 70+ other holidays/days of celebration throughout the rest of the year you can plan for.
That's a huge opportunity for revenue.
There's just one problem: the competition.
Everyone's in the same boat as you, and they're all out to win a share of the customer's wallet.
Think about your next holiday campaign; Valentines, Chinese New Year, etc. How will you outshine the competition (and even your results from last year)?
Pay-per-click (PPC) platforms are the first place you should be looking to get ahead during any holiday.
Not only does PPC deliver an average of 2-4x ROI, they also yield 50% more conversions than organic advertising - making it the perfect channel for holidays periods when purchase intent is already high.
So if you haven't yet fine-tuned your holiday PPC strategy, now is the time. Here are some of the most fail-proof PPC strategies that can work for any holiday period.
1. Do a deep dive on last year's PPC results.
To start, revisit the results from last year to help you set benchmarks and iterations.
Avoid focusing on vanity metrics like impressions which don't tell the whole story, and ask more meaningful questions like:
Does your account structure i.e. number of campaigns, ad groups or bidding methods need reviewing based on last year's performance?

What audiences performed best, what demographic and psychographic information can you gather about them?

What ads achieved the highest Click-Through Rates (CTR)?

What ads achieved the most conversions?

What ads had the best Quality Score?

What ads had the most/least wasted spend?
Tip: use UTM trackers in your upcoming campaigns to better organise the data and assist with year-on-year measurement.
If you can't access last year's data or don't have any, you can still gather intel on your competitors to help set clearer benchmarks.
Here's how...
2. Track the past and present PPC performance of competitors.
Tools like SEMrush can provide you with seriously revealing insights about your competitor's PPC strategy.
In your SEMrush account, go to Advertising Dashboard > Advertising Research and enter a competitor in the URL field.
SEMrush provide an example analysis using rei.com, a camping eCommerce site in the US.
Here's what the report can tell us about rei.com:
PPC traffic, paid keywords they rank for, position changes, PPC competitors, ad copies, ad history, landing pages and subdomains.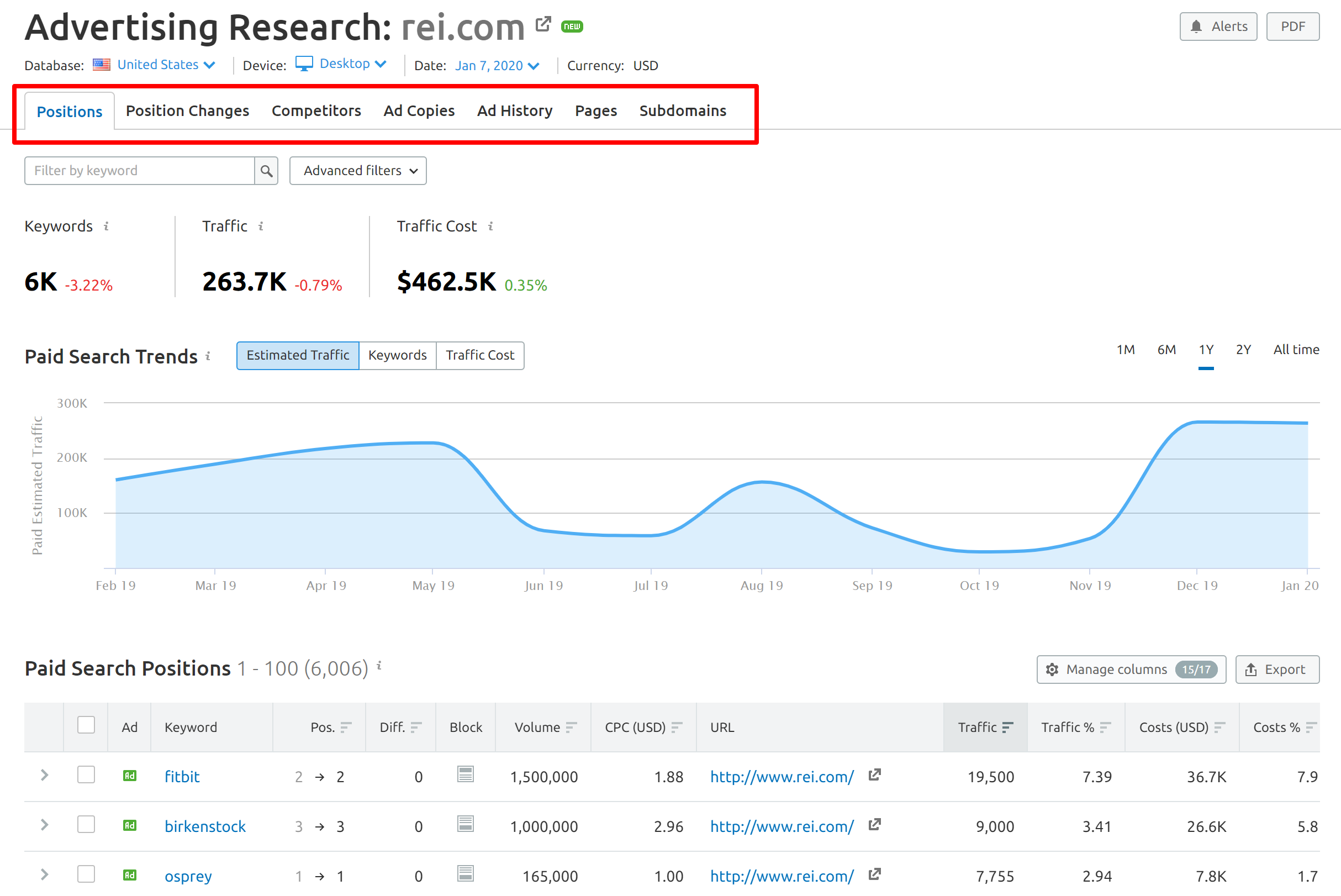 Rei's display advertising mix: a breakdown of their media, HTML and text ads.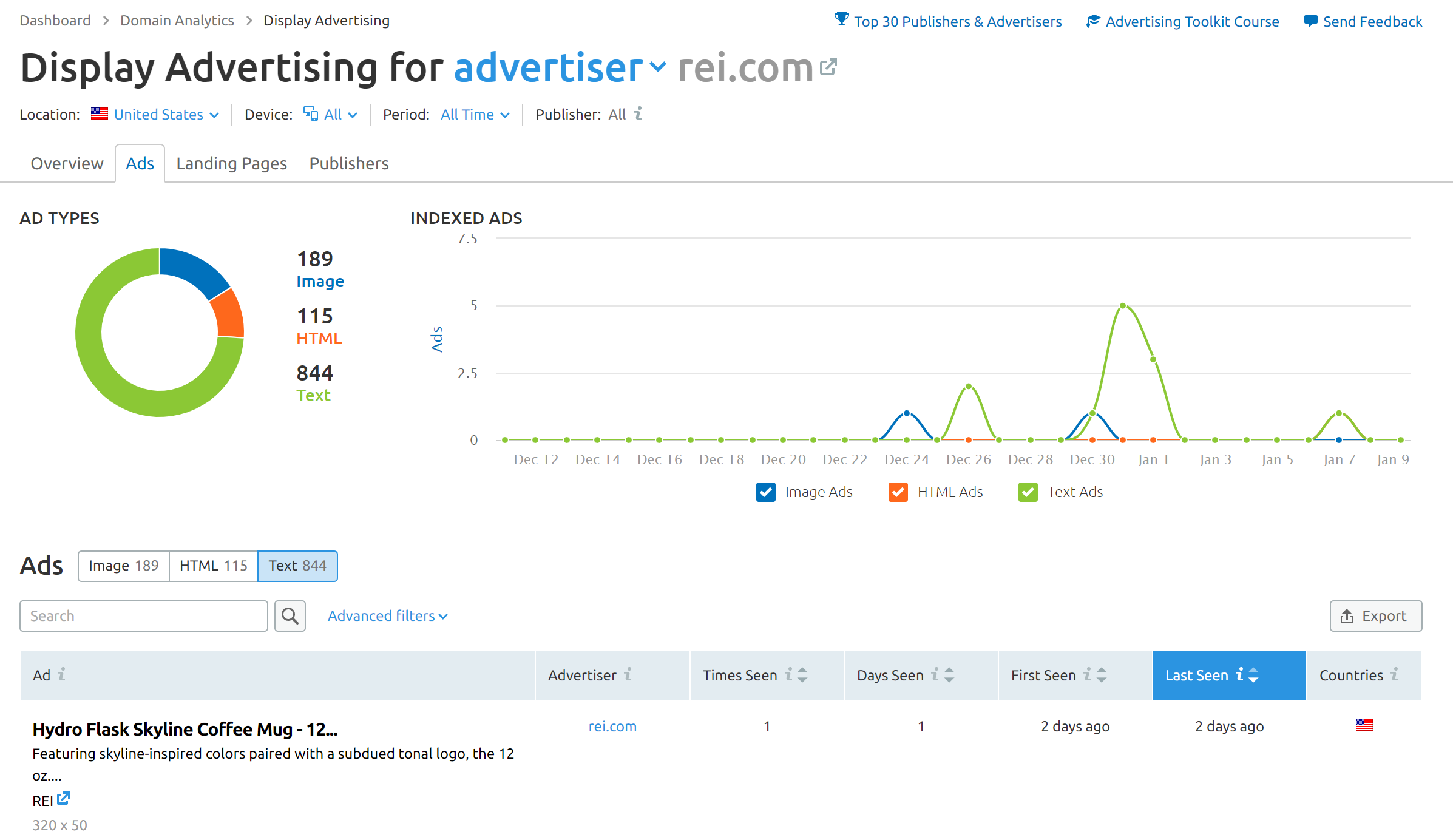 Use this data to inform your own advertising mix, messages and average bid.
Then, head to Keyword Research > Keyword Gap where you can compare your keywords against up to 5 competitors.
You can search by paid keywords but also organic (which is definitely worth doing since organic ranking affects your cost-per-click).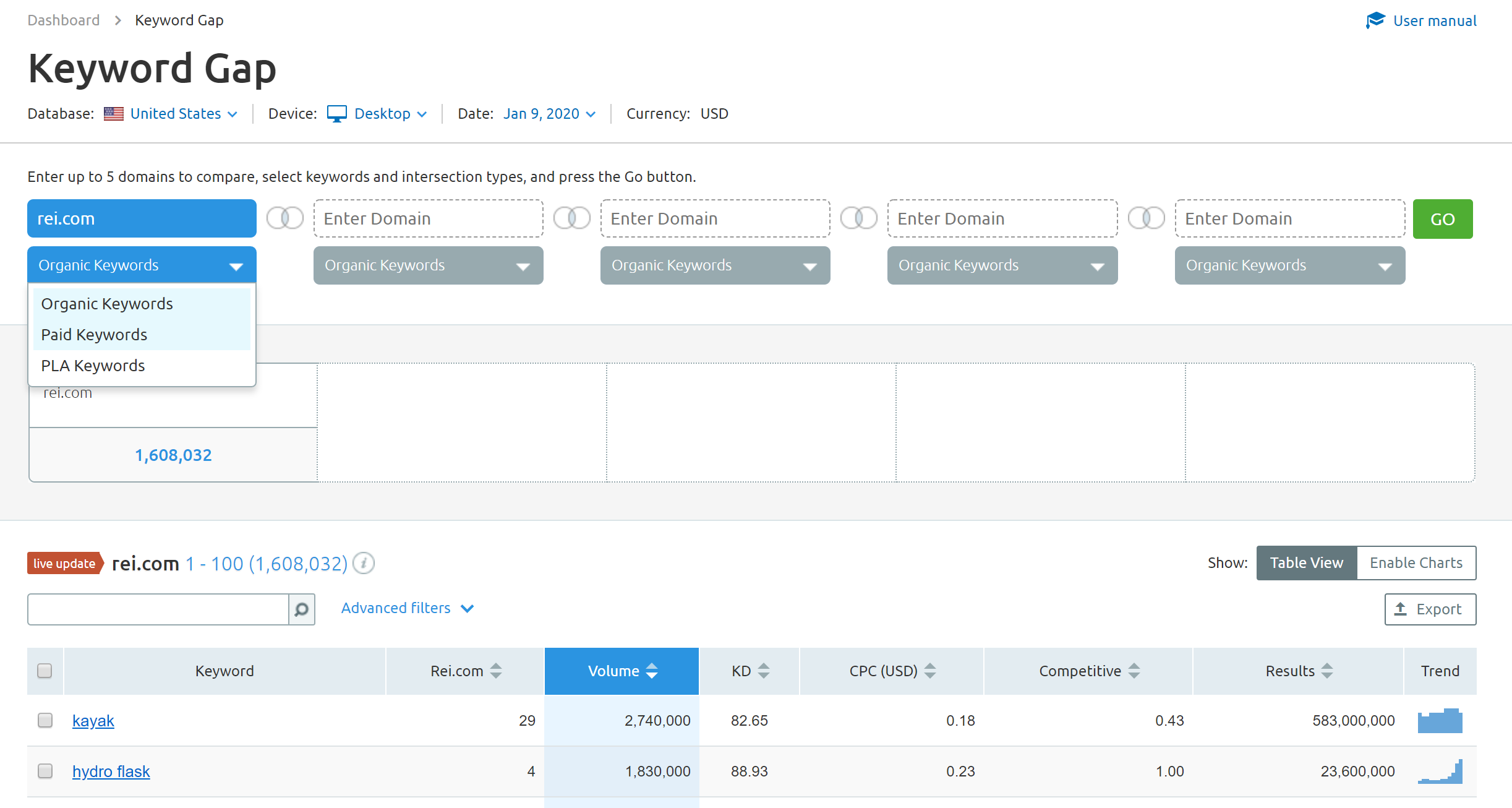 Use this report to shed light on your own keyword strengths and weaknesses - for example, what desirable keywords your competitors are ranking #1 for in paid search that you aren't.
If you don't have access to SEMrush, use the Keyword Planner in Google Ads.
Select "Start with a website" so you can directly research a competitor: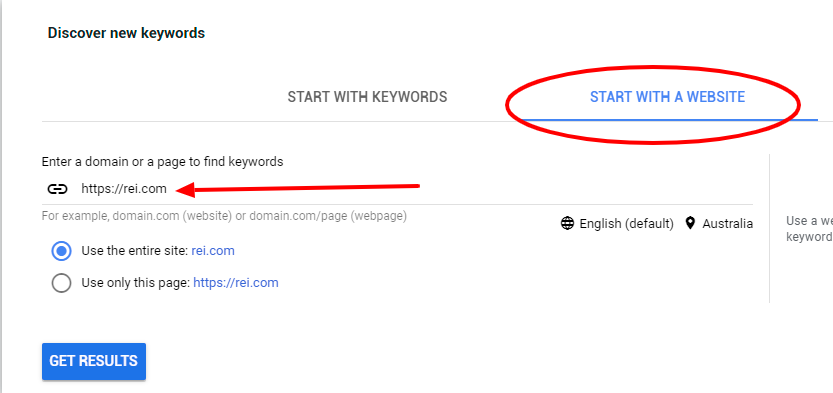 This will tell you keyword information, bid estimates and how competitive the terms are.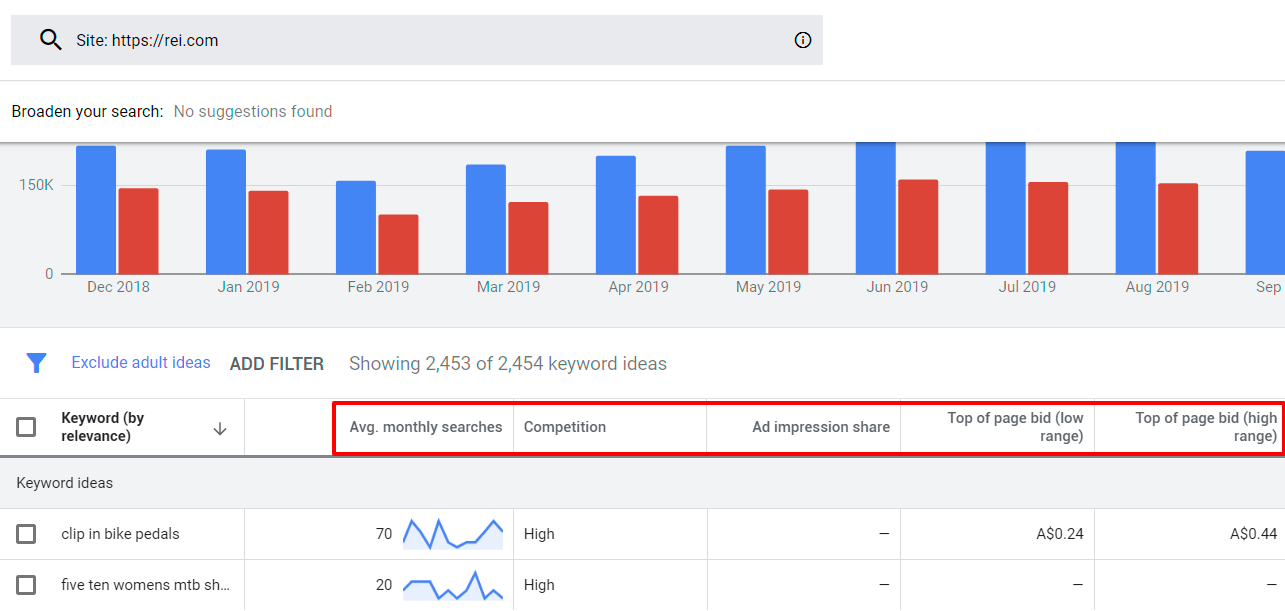 Note that you will not be able to see the ads/ad copy itself using this method.
To see the actual ads your competitors are running, try searching directly for key terms you want to bid on.
This will tell you what kind of messaging and ad extensions competitors are using. Think about how well they resonate with your target audience, and how your own ads can improve on that.
Take this search result for Valentines Day jewellery: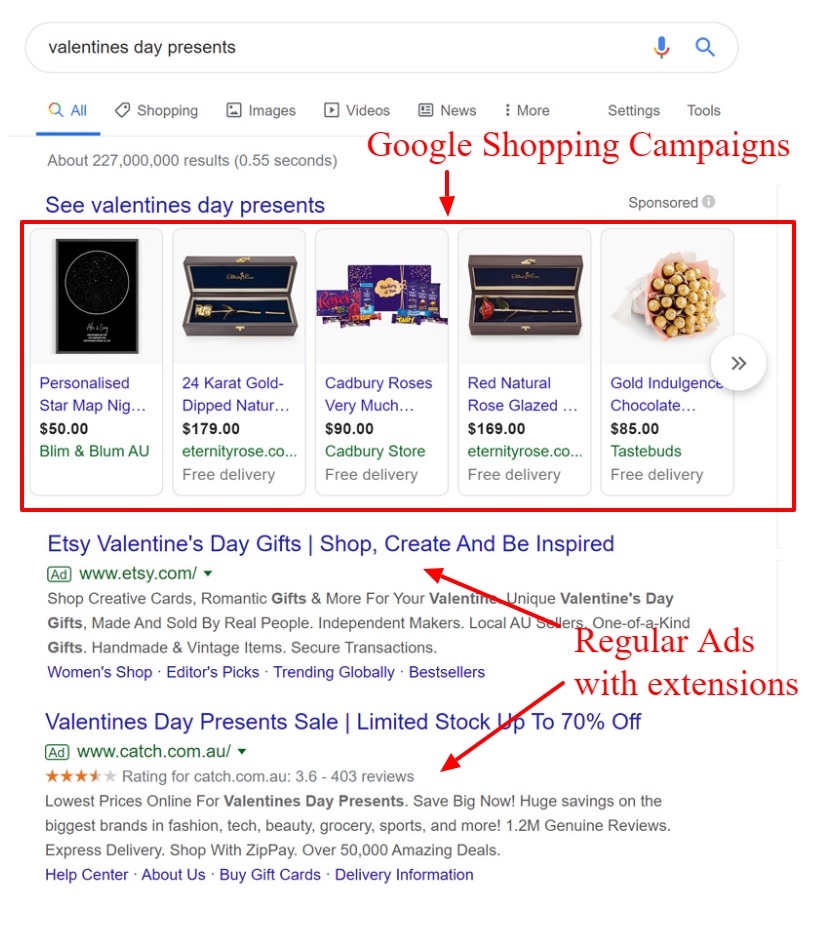 Another great tool for competitor ad research is Facebook Ad Library.
Facebook Ad Library gives you complete transparency over the ad copy, creative and timelines of your competitor's ads in Facebook, Instagram and Messenger.
To start your research, simply type your competitor's name into the search field to see a complete breakdown of their active ads: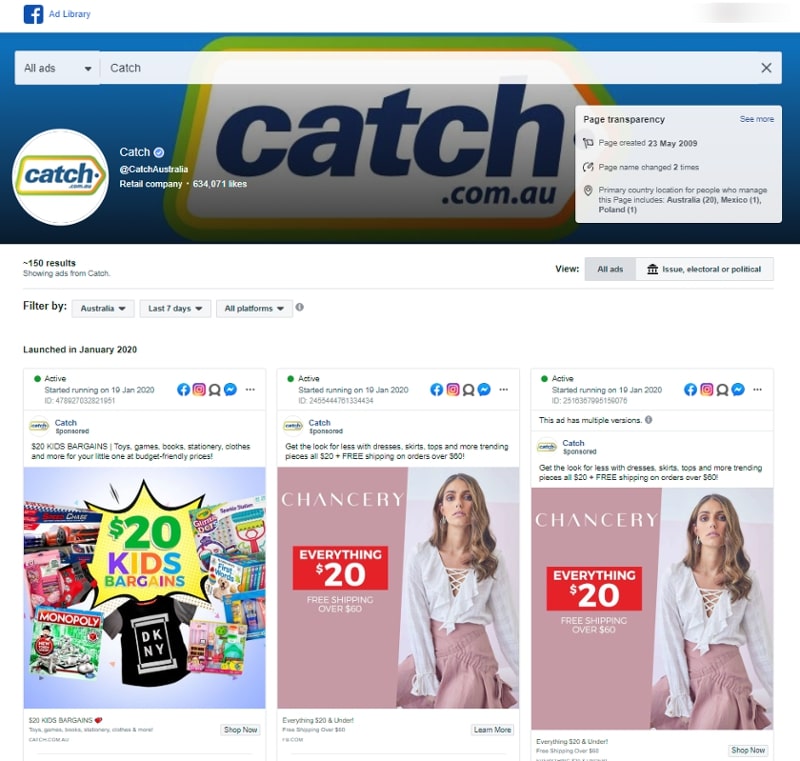 Tip: be sure to also research what landing pages these ads link to. It'll give you a better sense of how to optimise your own landing pages for conversions.
Take note of the Google Shopping Campaigns above.
Here's why they're important...
3. Use Google Shopping Campaigns to spotlight popular holiday products.
Google Shopping ads generate 85.3% of all clicks on AdWords. [Adthena]
Google Shopping Campaigns spotlight your brand/products and streamline user's shopping experience in a way that text ads can't.
Taking interested users straight to a product means you're bringing in more qualified traffic who are more likely to convert, while reducing spend wastage.
So if you haven't yet set up Shopping Ads, think about where you'd be sitting against competitors.
Shopping Ads now account for 76.4% of retailer's ad spend.
This is the kind of opportunity you cannot afford to miss out on!
Here are some simple ways you can optimise your Shopping Campaigns for the holidays:
Revise your account structure. Rather than lumping all products into one ad group, consider if you can split them up by brand, price etc. for better control over your bids.

Make sure your product photos are attractive, and clearly describe the product so the user understands immediately.
4. Plan your keywords ahead of time.
You might not know the exact promotion running or have all the creative in place, but there you can still create keyword lists in advance.
Keyword research tells you what terms to bid on for maximum visibility and cost efficiency.
Start by searching for the holiday-related terms you want to bid on.
For example, take the volume of searches for Valentine's Day gifts in SEMrush:
The last two columns tell you CPC and Competitive Density.
CPC is the average price your competitors are paying for a click on this search term.
Competitive Density tells you how difficult this term will be to rank for.
The closer Competitive Density is to 1.00, the more difficult the term will be to rank for, so we can see these terms might be harder to compete against. Information like this is important.
Use keyword research to track the terms you actually want to target, and what kind of messaging you want the ads to have.
For example, if your business offers quick delivery of goods, you could target keywords like last minute Valentines Day gifts rather than just Valentines Day gifts and promote fast delivery in your ads.
You're much more likely to get results that way instead of targeting generic terms - but this will all come to light in your keyword research.
Use keyword research tools like SEMrush , Moz or Google to get a better idea of what your audience is looking for.
5. Use ad extensions to drive more real estate and clicks.
Google's ad extensions provide users with different kinds of information about your business to help boost credibility and drive clicks.
Here are some examples of ad extensions:

You can also use ad extensions to communicate short-term sales such as flash sales, to save you from the admin of creating whole new ads from scratch.
Our top ad extension picks for holiday PPC include:
Price extensions - which tell users the current price of a product.

Sitelink extensions - to let you promote different pages on your site.

Promotion extensions - to advertise special holiday sales.

Review extensions - to relay positive reviews of the product to users.
6. Create holiday-specific remarketing campaigns.
Remarketing is going to be your best friend during the holidays, both on Facebook and Google.
Here are some reasons why:
You know that the customer is already interested in your product, which improves your ad relevance and quality score.

Driving interested customers back to your page to finish conversions will improve your conversion rates and reduce ad spend.

Your ROAS will be greater as a result.
During any gift-giving holiday, people are going to have a lot on their plate. They might land on your site and be interested in your products, only to get carried away with other tasks and leave.
Using remarketing to show them what they've viewed before could be all it takes to get them to come back and finalise the purchase.
During the holidays, your remarketing ads might need these adjustments:
Dynamic remarketing will let you show users products they've already viewed, rather than generic brand promotion ads.

Create a sense of urgency by pushing the 'last minute' message and encourage quick decision-making.

Reduce your remarketing list to 7 days instead of the usual 30.
Conclusion
Here's a recap of the tactics you should check off for a well-executed holiday PPC campaign:
Do a deep dive on last year's PPC results.

Track the past and present PPC performance of competitors.

Use Google Shopping Campaigns to spotlight popular holiday products.

Plan your keywords ahead of time.

Create holiday-specific remarketing campaigns.
Make sure you also monitor performance regularly and adjust where necessary; the holidays might be a boom time for eCommerce, but that doesn't mean you want to be wasting your ad spend!
Need help planning your next seasonal campaign or wanting tips around how to manage your PPC efforts? Get in touch with us and let's find the perfect strategy together.