Modern marketers, meet the modern customer journey. Rather than making a straightforward, linear path from awareness to purchase, the modern customer is interacting with your brand through a kaleidoscope of mediums and touchpoints; from social media to word-of-mouth, in-store visits, above-the-line advertisements, customer service calls and much more.
So for the modern marketer, customer journeys are more complex than ever before. But nailing a customer journey map is essential to creating an integrated customer experience strategy that can vastly improve your ROI.
What is a customer journey map?
A customer journey is the complete sum of interactions that a customer goes through in order to achieve a goal with your brand. A customer journey map is a visual representation of all their behaviours, needs, emotional states and pain points as they move through each possible touchpoint with your brand.
It's important to remember that the journey doesn't necessarily end when the customer converts; there's also post-purchase and retention stages to consider.
The core elements of a customer journey map
"It is acknowledged that the journey does not develop along a linear path. Journeys should be seen as three-dimensional, embracing every touchpoint and (with a little artistic license) you could essentially say they are alive."

- Wil Lynch, Marketing Week
Here's what your customer journey map should include:
A timeline. Typically the stages of the funnel (awareness, consideration, conversion and retention) will double as stages in the timeline of a customer journey map.
All the touchpoints a customer may have with your business. The social channels, website pages, ads, emails that your customers might come across and more.
Customer behaviours that happen within each stage of the timeline. This would detail the progression of where and how they carry out key steps in their journey, i.e. researching for ideas, or making a purchase.
The customer's pain points and highlights as they move from stage to stage. Is the customer feeling frustrated? Curious? What are they feeling when they've finally found what they're looking for? What might they need from you after making a purchase?
References back to your buyer personas. Each of your buyer personas will move through a different journey, so make sure you're assigning the journeys back to each distinct buyer persona, their demographics and psychographic data.
The benefits of customer journey mapping
Since today's customer is exposed to many different on-and-offline messages and channels; they're also more likely to have a fragmented journey with your brand. This makes the journey harder for marketers to understand and also to join the dots across their marketing, sales and customer service departments.
Customer journey maps are key to bridging those gaps in understanding so that you can fully be across the customer's experience, whether it be during their awareness, consideration, conversion or post-purchase phase.
In fact, having an increased focus on the customer journey can boost your ROMI (Return on Marketing Investment) by as much as over 50%, according to the Aberdeen Group's report The CMO Dilemma: Bridging the Gap Between Love and Money.
But how?
A customer journey map can unlock a myriad of answers to what may otherwise seem like confusing or unclear shopping behaviour.
For example, if you were an omnichannel fashion retailer, you'd certainly want to know the reasons behind cart abandonment in your online store. Maybe you'd tweak the checkout process or send cart abandonment emails as a way to win the customer back.
But what if a portion of customers were actually abandoning their cart because they realised you had a physical store close by and could go in and try the garments on in person?
A customer journey map can help you to better identify your customer's needs, the driving forces behind them and the behaviours they lead to. This, in turn, tells you what you should be focusing on during each stage of the journey; in this case, it might be training your in-store staff on how to better assist the customers who come in after browsing online.
Customer journey mapping also lets you:
Understand how a customer feels at any given stage of their journey (anxious, excited etc.) which allows you to nail your messaging at that point in time - whether it be an email, advertisement or phone call. Above all, messaging that is both relevant and empathetic.
Align your sales, marketing and customer service departments around a clear vision, with an improved understanding of where each department fits into the vision.
Identify the higher-converting channels where you should be investing more of your time and budget into.
In terms of product and UX design, user journey mapping is an excellent way to keep the design process focused on the customer's needs, resulting in more user-centric products and websites.
A customer journey map can help you to better identify your customer's needs, the driving forces behind them and the behaviours they result in.
A look at Nike's customer journey and best practice
If the purpose of customer journey mapping was to deliver a more powerful, relevant and empathetic customer experience; few brands have fulfilled this purpose as well as Nike.
Let's look at how they have used both on-and-offline touchpoints to weave a completely innovative customer experience for their runners, at every stage of the customer journey/timeline:
Customer experience during the awareness stage
Nike have a long, at times controversial history of knowing how to get people talking about their brand, which is exactly what effective brand awareness campaigns set out to do. Their outdoor and digital campaigns will typically feature a mix of the following:
Motivational, action-oriented messaging,

Distinct colours and confident designs,

Real people whom the customer can relate to, or real celebrities/athletes whom the customer can aspire to be,

A timely message or relevant spokesperson to ignite further discussion and awareness.
Overall, Nike's ability to conjure emotion in people is what forms the beginning stages of their interest in the product. This doesn't come about by accident - it comes from a well-researched understanding of the highs, lows, frustrations and fears that every runner goes through.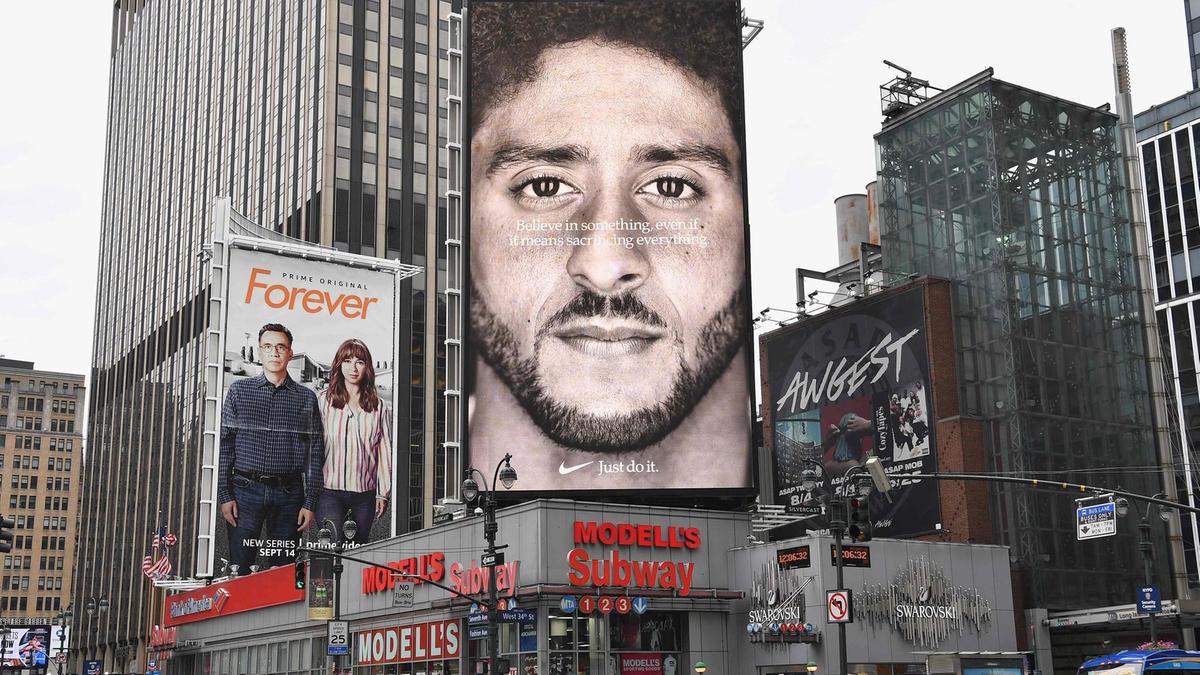 Image from the National.
It's also important to note their omnichannel approach to advertising; while other fashion brands are increasingly focusing their marketing spend online, Nike still seizes both digital and physical spaces to reach a larger audience, driving greater moments of brand discovery.
Customer experience during consideration & conversion stages
According to PostFunnel, though customers do still frequent physical stores, they increasingly expect a digital in-store experience. Nike recently debuted 'House of Innovation' experiential stores in Shanghai and New York that aimed to bridge the online/offline divide in retail; these stores offer services including:
A free "reserve online, try in-store" feature.

In-store technology to enhance the customer experience including QR codes at mannequin bases that bring up product details when scanned, try-on lists and automatic requests to sales associates to bring the shoes to them.

Instant checkouts using new or previously stored payment details so transactions can be completed with a simple scan and tap of the purchase button.
Combined with Nike's continuous digital reinvention and mobile-first eCommerce/digital strategy, this results in a personalised, holistic and seamless experience for customers as they move through the consideration and eventually conversion stages.
Customer experience that improves retention
"Building trust and loyalty is about more than just a satisfied customer. It is about consistently delivering good experiences and delivering on the promises you make."

- Andrew Park, VP of Customer Experience Stratgy, InMoment
Every business knows that customer retention is important. But brands don't necessarily get to define what loyalty means; the customer does.
After purchasing Nike running shoes, a customer can download the Nike Running App and select their interests, which in turn customises the content they see. Other App features include personalised coaching tips, the ability to Tag Your Shoes and keep track of total distance run, share your runs with others and more.
Customers can also enjoy curated running playlists thanks to NIKE+ RUN CLUB (a Spotify Integration), or track their runs through their Apple Watches thanks to an ongoing partnership between the 2 brands.
These moments of delight, along with a customer service team that centers on building trust, continue on well after the customer converts. More importantly, the customer is empowered to perpetuate a unique, personal experience with the brand. This is a key indicator of successful retention; it is at once customer-centric and customer-driven.
The good news is you don't have to have the marketing budget of Nike to begin researching your customer journey and responding to (and proactively anticipating) the needs of your customer. This is something that all marketing teams can do and those that neglect to do so will be chasing sales and offering endless discounts instead of following customer trends and building brand loyalty.

Want more advice on how your customer journey could be mapped or applied to deliver more value to your business? Do you have a clear vision for your journey? Whatever your questions, we're always happy to help you find the answers. Get in touch!